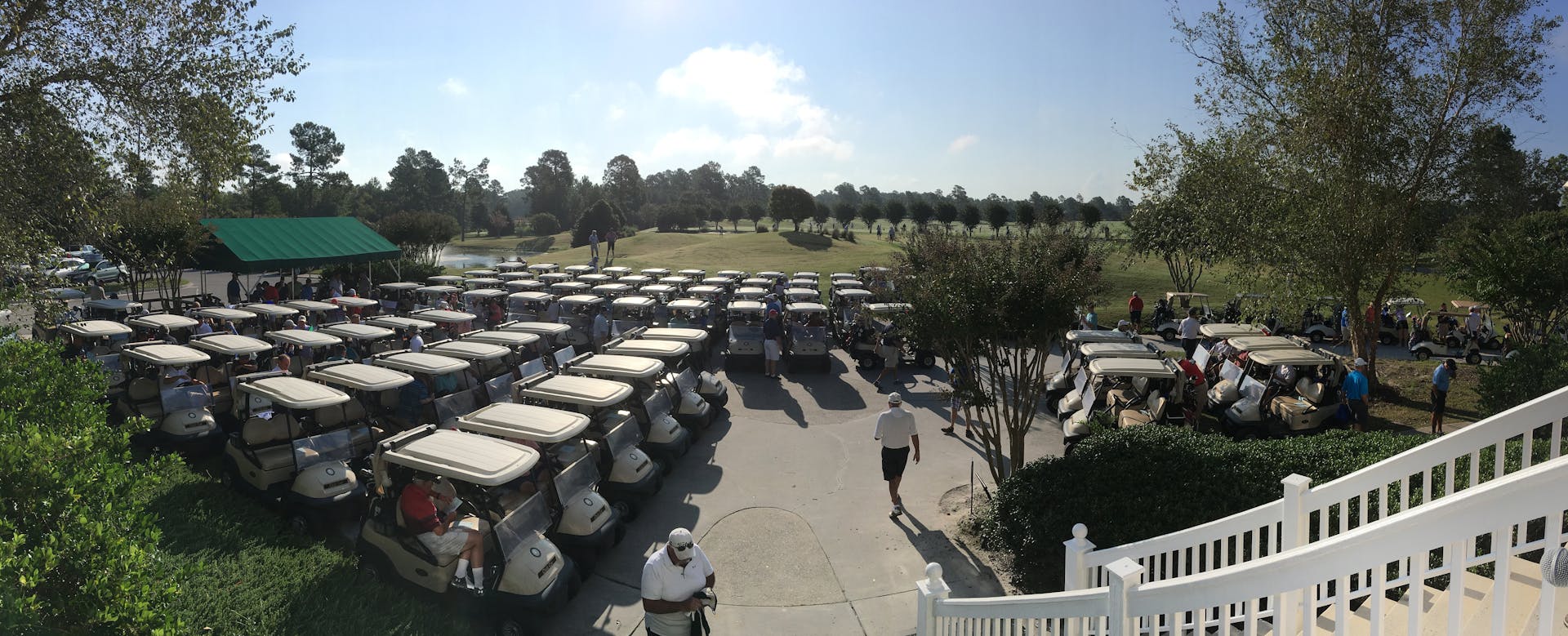 When you play Carolina National, you get to enjoy a beautiful 27 holes designed by 1992 Masters Champion Fred Couples. When you become a member, you get to scratch your own competitive itch by playing in any one of dozens of member events held throughout the year, from January to November.  
Member events range from the Ladybirds tournament in May to the Men's Golf Association (MGA) Ryder Cup held in mid-October. The Ryder Cup is one of Carolina National's larger tournaments with a 96-person field split into two teams, with each team playing four 9-hole matches over two days. And in the competitive spirit of the pro's event, you get to play as a member of Team USA or Team Europe! 
Throughout the year at Carolina National, the MGA and Women's Golf Association (WGA) host multiple Super Fun Days. These events include a morning shotgun with a different format each time, and lunch and prizes after. These events are competitive, but super fun!
The pinnacle of all Carolina National tournaments is the Men's Member/Guest held near the end of September, one of the biggest and most competitive events of the entire year. Carolina National pulls out all of the stops for Member/Guest, as our staff extends every effort and accommodation possible to make the day memorable. But members aren't the only ones who get to enjoy the event experience at Carolina National, as the club also hosts tournaments throughout the year for a variety of companies and organizations. On July 14, Carolina National looks forward to presenting a fundraising event to benefit the Brunswick Christian Recovery Center in its faith-based approach to helping fight drug and alcohol addiction. Learn more about this great event and cause by clicking here! 
For more information on hosting a tournament at Carolina National, click here! To learn more about becoming a member at Carolina National, call 910-755-5200 Ext 3. We look forward to seeing you at one of our upcoming events!
Golf Outing Information
Carolina National Golf Club's beautifully manicured 27-hole golf facility is the most apparent and important service we provide, including 3 distinct courses (Egret, Heron & Ibis). In addition, all our tournaments include the following services and more.
Personalized cart labels & rule sheets
Computerized handicaps & pairings
Scoring & posting of tournament results
Golf Shop certificates & merchandise for prizes
Hole-in-One Package (Minimum of 36 players)
On-site management by PGA & tournament specialists
Room for pre/post play party
Registration Tables
The next time you are planning a golf tournament, let our 27-hole premier golf facility serve as your exclusive setting.  Every tournament is customized to meet your needs, and our staff is committed to making the tournament you envision a reality. Each year numerous corporations, associations, and private groups choose us and repeatedly return to Carolina National Golf Club.  Whether a large charity event or a group of 12 friends on a relaxed golf outing, let our impressive facility and first-class amenities serve your guests and make your next golf event a great success.
To receive more information about golf events at Carolina National Golf Club contact our pro shop at 910.755.5200 or fill out the form below.